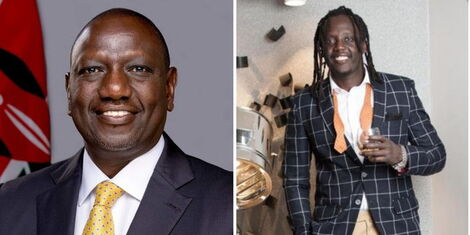 A behind-the-scenes video of President William Ruto's ceremonial portrait shoot, which will be shown in all public offices, has surfaced.
Seen in footage by TNZT.co.ke, the photo shoot was conducted by a team of six lens people led by renowned photographer Emmanuel Jambo.
The room was furnished with equipment including the flag on the gray background. President Ruto was asked to take a seat in front of two light softboxes and Jambo clicked on his camera.
However, he was not satisfied with the image sent to his laptop – the problem with the appearance of the flag. The photographer made adjustments and ordered the president to take the photo.
Portrait of President William Ruto and photographer Emmanuel Jambo.
File
"Smile. Yeah, that's a perfect one there," Jambo said.
The appearance of the flag on the portrait deviates from the norm and is an adoption of the style used by the presidents of the United States of America (USA).
The photo was edited and was first officially unveiled to the public during the head of state's inauguration at Kasarani Stadium on September 13. The army replaced the portrait of former president Uhuru Kenyatta with that of Ruto.
Emmanuel Jambo is a renowned photographer and was recognized as one of the top of the continent by TNZT Magazine in 2012. He has painted portraits of African presidents, including Zambia's Rupiah Banda and Kenneth Kaunda, and South Sudan's Salva Kiir.
Locally, he produced a documentary for the Blind Kids of Thika and has nurtured photographers as well. Among his protégés, Thandiwe Muriu had her whose photos were showcased at the Apple event during the iPad Mini unveiling in September 2021.
State House spokesman Cyrus Oguna announced that the portrait was for sale at the Department of Information at Uchimi House along Aga Khan Walk in the Central Business District (CBD) at Ksh300 each.
In 2013, the Ministry of Information Communications and Technology maintained that government agencies were required to have the official portrait in their offices. This may not apply to private companies.
"There is a requirement for government agencies to show the portraits. Those in the private sector can do it as they see fit." former ICT-PS Bitange Ndemo then.