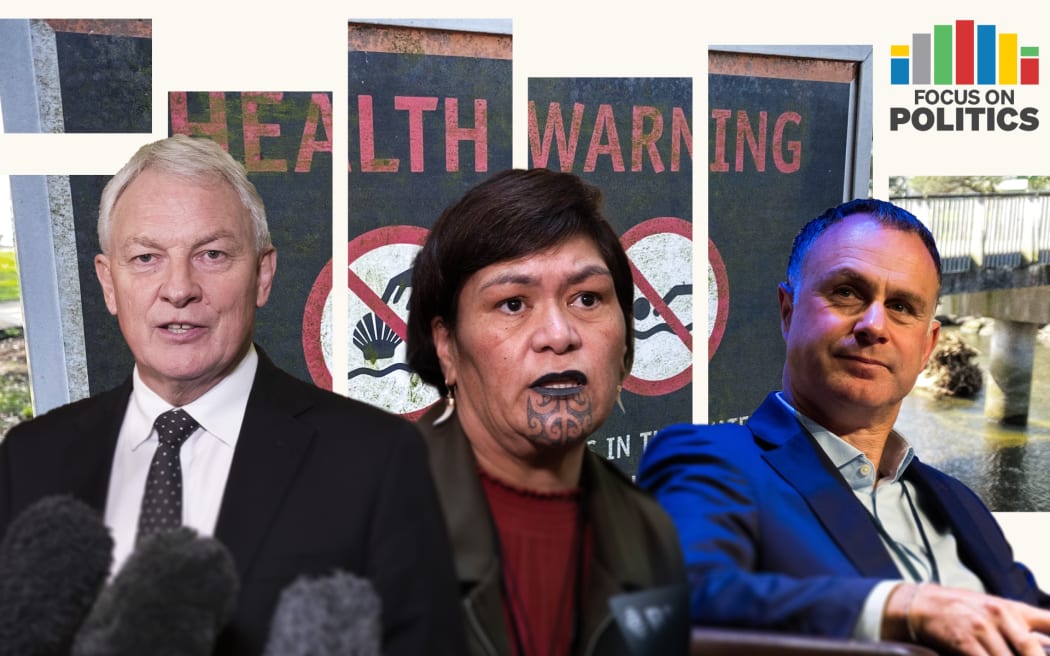 "I unfortunately still believe that some taxpayers don't really know what they are paying for their poor water supply," – Local Government Minister Nanaia Mahuta
Water management will be a major political battleground ahead of local elections next month – and the general election next year.
Opponents and councils reject the government's unpopular proposal or urge caution and postponement until the details are settled – but there is little agreement on alternatives and experts warn time is running out.
The campylobacter outbreak in Havelock North in 2016 sickened more than 8,000 people and killed at least three, prompting a revision of drinking water guidelines by the then national government.
It was a classic case of crisis provoking a response, but the review only highlighted what we already knew.
Industry Body Water NZ says only 64 percent of New Zealanders get drinking water that consistently meets standards; only about a quarter of wastewater treatment plants are fully compliant; and there is no consistency or national standards for stormwater management.
However, any solution would face major funding problems. While we are constantly dependent on water for daily life, infrastructure is ironically a dry subject that we often think little about.
The Labor government enlisted the Scottish Water Industry Commission (WICS) to conduct what is believed to be the largest ever assessment of New Zealand's water infrastructure so it could come up with a plan. WICS chief executive Alan Sutherland says there are about 3,600 water pollution incidents in the 48 municipalities – plus Auckland – and the average New Zealand household pays about $1100 a year for three water services. It is about 20 times the number of pollution incidents at a cost of 40 percent more than in Scotland.
The government's solution, heralded as the biggest shake-up in the sector since 1989, was announced last June by local government minister Nanaia Mahuta: a major reform program to merge the water services of 67 municipalities into four large regional, stand-alone entities with strategic oversight and local voice given by representative groups of council and iwi members.
"The problem came down not just to the number of regions, but what level of aggregation would allow standalone entities to get the credit to get financing in infrastructure," she says.
Read more:
It would always be hard to sell. Water is one of the primary responsibilities of municipalities and merging regions with wildly inconsistent levels of previous investment could smack of dishonesty.
The government soon realized that it also needed support from all municipalities to be effective. It should use legislature, but kept plans to do so secret while deliberating — giving the impression that it was a fait accompli.
Councils expressed concerns about representation, ownership and the risk of privatization – they wanted more say than the government's economic goals would likely allow. To get them on board, Mahuta brought together nine mayors and nine iwi representatives to find their own solutions, eventually adopting nearly all of the group's 47 recommendations.
The main features were:
Municipalities get non-financial shares to further protect against privatization

A "Crown Liquidity Facility" – an emergency fund that would provide greater certainty over entities' finances and increase borrowing limits

Entity boards appointed by a subgroup of council/mana whenua representative group members, rather than an independent panel
The first bill will be passed before the end of the year, with the entities set to go live in July 2024 — but elections are due before then, and National and ACT have both promised full repeal.
Simon Watts, spokesperson for the local government, mentions several concerns: loss of local property rights, skepticism about the financial and economies of scale of the government, the impact that the loss of water management would have on municipalities.
Eugenie Sage of the Green Party says the exercise is too big to fail and an agreement between the parties is needed – and the government should pause until it can reach consensus.
Their political counterpart, ACT leader David Seymour, says much the same – but the party also wants to allow public-private partnerships. His MP Simon Court has also been a strong critic of Māori's 50-50 representation at the strategic representative group level, saying it is the worst aspect of the reforms.
The government has denounced much of the criticism of the co-government provisions as misinformation, and this week Mahuta said the subject was taken up in the February occupation of parliament by anti-government protesters and conspiracy theorists.
She says the co-governance arrangement arose out of the councils' fears of the effect on their strong relations with Māori, and the need to uphold the settlement obligations of the Treaty of Waitangi.
"It was important to ensure that Te Mana o te Wai's ambitions could also be achieved through this reform program."
Te Mana o te Wai is a mātauranga Māori approach to water that primarily prioritizes the health and well-being of water as a whole; second, and as a result, prioritize people's health; and thirdly, social, economic and cultural well-being.
Te Pāti Māori co-leaders, Debbie Ngarewa-Packer and Rawiri Waititi, say they have supported the government's plan, but it does not solve the core problems of water ownership under the Treaty and they will continue to fight until the Māori rights and interests in water have been recognized.
Councils – including the 31 members of the three-water opposition group, Communities for Local Democracy – largely support greater Māori influence and voice in the decision-making process. But despite the working group's changes, most are against the government model. A recent survey of all 291 mayoral candidates found that more than 75 percent opposed the reforms.
Timaru Mayor Nigel Bowen says his council's main concern is the "economic facilitation" of water control the district brings, and supports calls for a two-pronged solution to such an important issue. .
Selwyn Mayor Sam Broughton says that with the water improvements made over the past decade, the council doesn't want residents to pay again to bring nearby areas up to standard.
Auckland's Phil Goff says the supercity has already pooled its water resources, contributing 93 percent of the asset value and accounting for 90 percent of Entity A's population – but would have just 28 percent of the representation.
He would prefer that the government provides a direct guarantee for the water debts of the municipality, so that they can borrow more.
Porirua Mayor Anita Baker largely supports the reforms, but also has reservations about the council's vote and says there will be ongoing problems with staffing for the industry.
"Even if we fund it in some other way, we don't have enough water engineers, we don't train enough water engineers, so right now we can't all do the amount of water infrastructure that's been done with our Wellington Water group alone," says Bakker. .
Mahuta says that during the four-year project she always hoped she would work with municipalities. She is supported by her Deputy Commander, the Associate Local Government Minister and MP for Wairarapa Kieran McAnulty.
Since then, he has been visiting congregations across the country — now more than 40 — to get involved and get their input. RNZ has repeatedly sought an interview on the subject over the past three weeks, but has declined until the tour ends next month.
However, he told Parliament in August that all the councils he had spoken to had told him the status quo was untenable.
However, they also face a series of other major reform programs – a replacement of the Resource Management Act and a revision of local government.
Many details of the three-water plan are also unresolved: There are widespread calls to rule out stormwater systems, at least until jurisdiction over things like culverts and rivers can be settled; and there is no detail yet on economic regulation and pricing.
However, the chief executive of the Water NZ industry group, Gillian Blythe and President Helen Atkins, warn of delays and say there is no good time for intergenerational change.
They referred the select committee to a document from the Commissioner for the Environment in 2000 which said that the current model – 22 years ago – had reached the end of its design life and that incremental tinkering would only make the necessary changes more difficult and more expensive.
Whether the government's unpopular plan will achieve its goals, however, remains to be answered.
In… of today Focus on politics podcast, RNZ Digital Political Reporter Russell Palmer wades into the debate on the three waters, assessing the situation ahead of local and general elections.
Listen to Focus on Politics for free on Apple Podcasts, on Spotify, on iHeart Radio, or wherever you get your podcasts from.
.