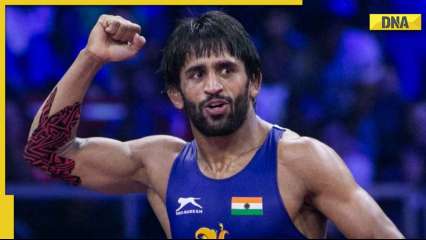 Indian star wrestler Bajrang Punia took the gold medal for India after winning the final against Canadian Lachlan Mcneil in men's 65 kg at the ongoing Commonwealth Games 2022 in Birmingham on Friday.
READ: CWG 2022: Indian Lawn Bowls Team Advance to Celebrating Men's Semifinals
Punia was extremely dominant in the first period and did not let his opponent score. He finished at the end of the first period with a 4-0 lead over McNeil. But McNeil made a comeback with a strong commitment and narrowed the deficit by two points to make it 2-4.
Punia took the lead again after scoring two more runs. The Indian did not look back from there and won the game 9-2. Punia reached the final after beating George Ramm of England in the semi-final.
He defeated his English opponent 10-0. He had reached the 65 kg men's freestyle semifinal after beating Mauritius' Jean Guyliane Joris Bandou in the quarterfinal. Bajrang was at his best in the game when he won 6-0 in the fall.
.