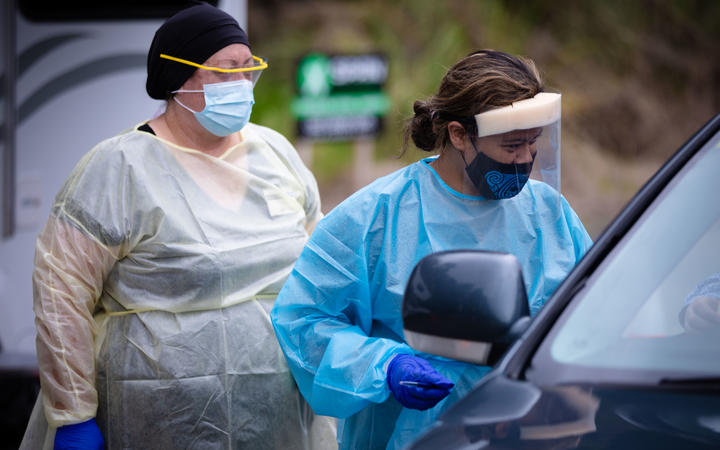 Northland DHB CEO dispels anti-vaccine rumors that he had a serious heart attack after a Covid-19 vaccination.
Dr Nick Chamberlain said he was shocked by the false allegations – which were heard by his daughter in Wellington.
He said it was another example of how dangerous anti-vaccine claims were, and this time it directly affected his whānau.
"I've also heard of people from Australia calling to check on me."
He said the rumor was that he had the heart attack after receiving a third dose of the Pfizer vaccine.
However, reservations do not open for the reminder injections until tomorrow and begin to be effectively administered from Monday.
He encouraged those who were not confident in the vaccine to speak to a medical provider for reliable information.
"Please don't be fooled by what you read on social media. Instead, talk to a member of your whānau or your local iwi or Maori health care provider. Or make an appointment with your GP.
"They offer free appointments to patients who have questions and concerns about the vaccine.
"Yes, you can still get Covid-19 if you are vaccinated the same way you can still get pregnant if you use contraception and the same way you can die in a car accident if you use a seat belt. This does not mean that you are not going to use contraception or a seat belt.
"The vaccine is not a cure. It is a layer of protection – up to 95% and protects you from severe symptoms of the virus so you don't die.
"It also reduces the risk of the virus spreading so that other people you care about don't die.
"Unfortunately, we have seen from this latest outbreak how quickly this virus has spread in our region, and we need our population to be vaccinated before our borders open."
Northland's vaccination rate is 84 percent for the first doses and 75 percent for the second doses. Rates are lower for Maori with 76 percent for first doses and 61 percent for second doses.
Dr Chamberlain said nearly 10 percent of the population refused childhood vaccinations.
"And I suspect we have about 10% in Northland that are anti-vaccine, which is extremely high."
"So what we have to do is get everyone who is not against vaccination, but who always decides, to be vaccinated."
Time is running out to increase those rates with thousands likely to head north when Auckland's borders open on December 15.
Dr Chamberlain said he was very concerned about what this would mean for Northland and encouraged unvaccinated visitors to stay away.
He encouraged anyone who is unsure of the vaccine to not just rely on social media, but to speak to a trusted whānau, local iwi or Maori healthcare provider, or to make an appointment. -you with a general practitioner, who offers free sessions to patients with questions and concerns about the vaccine. .
.