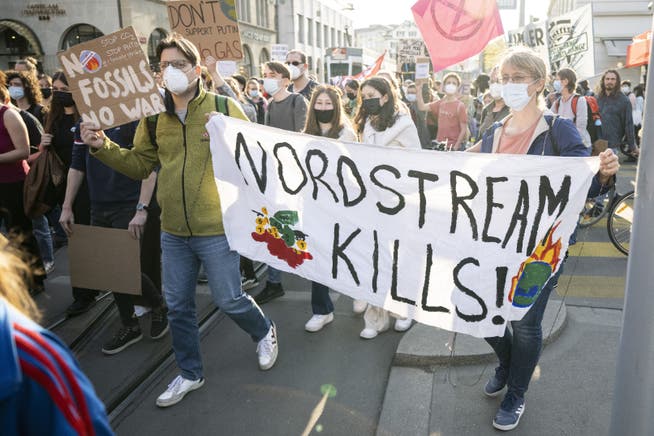 Ukrainian War

"The blood sticks to fossil fuels": the climate strike demands an energy embargo against Russia
Fossil fuels are a lever and a financial fuel for the Russian war of aggression. This is why Switzerland must become independent as quickly as possible, claims the strike movement for the climate.
The Swiss financial center and Swiss-based commodity companies would contribute not only to global warming, but also to the current warmongering in Ukraine. This is the conclusion of the Swiss climate strike. At a press conference on Tuesday, the movement called for an immediate energy embargo against Russia and restrictions on the Swiss financial center and commodity trading.
The movement criticizes the fact that fossil fuels such as oil and gas are not on the sanctions list against Russia. Switzerland is still dependent on fossil fuels. This addiction brings destruction, said climate strike activist Cyrill Hermann: "Wherever fossil fuels are involved, violence, conflict and wars are present. There is blood on our fossil fuels."
Energy trade with Europe brings billions to Russia
Fossil fuels will also play an important role in the war in Ukraine, as a means of pressure, but also as a driving force for Russia. As various media have reported, Russia expects almost 14 billion euros in additional revenue from the export of fossil fuels for the current year – due to rising energy prices. . According to Hermann of the Climate Strike, this shows:
"The only way to keep Putin's gas ace up his sleeve is to immediately develop sustainable energy and reduce energy consumption."
This is why the climate strike calls for an immediate halt to trade and investment in Russian oil and gas, as well as an immediate halt to investment, lending and insurance services for fossil projects. and businesses in general.
Two climate activists from Ukraine and a climate activist from Russia also spoke at the press conference. The Russian activist underlined: "It is a crime to continue to support Russia financially". Only with the embargo can there be peace in Europe. Such a decision was taken by EU states on Tuesday evening; It remains to be seen whether Switzerland will follow suit.