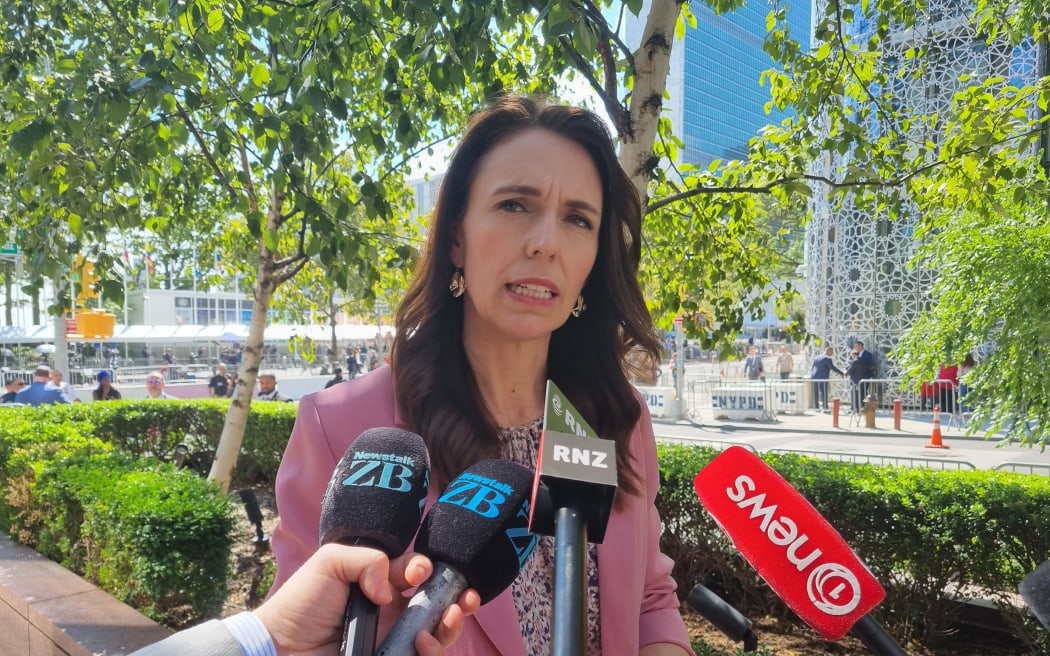 Prime Minister Jacinda Ardern has downplayed the possibility of the Russian ambassador being deported.
Russian President Vladimir Putin sparked new outrage this week, making more veiled threats of nuclear war and sharing plans to hold referendums on whether occupied regions of Ukraine should become part of Russia.
A decision on whether or not to expel Russian Ambassador Georgy Zuev has been actively considered by the government, and such a move is likely to result in New Zealand Ambassador Sarah Walsh getting the boat from Moscow.
Speaking to the media in New York, Ardern said sanctions against Russian oligarchs and support for Ukraine's war effort were more important.
She said all options, including evicting the ambassador, were left on the table, but she firmly believed it was one of the least useful tactics.
"Of all the options for our strong response to Russia's illegal invasion of Ukraine, we have always had a range of options on the table, and expelling the Russian ambassador has always been one of those options. We love most of our like-minded partners have not used that option because it is one of the least useful in this situation.
"As Secretary of State" [Nanaia Mahuta] has said that it has always been on the table, has always been actively thought about, but after meeting the Prime Minister of Ukraine yesterday, I really confirm that according to them the most important thing we can do is sanctions in the first place and also support them as we have done in the ongoing struggle in Ukraine," Ardern said.
Ukraine had never asked New Zealand to expel its Russian ambassador, she said.
"Sanctions are the strongest message, you know that we as politicians have all been banned from traveling to Russia for our sanctions, not because of diplomatic expulsions."
Meanwhile, the National Party says it is of little value that New Zealand has an ambassador to Russia, and that it would be prepared for their removal.
That said the spokesman for Foreign Affairs of the National Party, Gerry Brownlee Morning report Packing Zuev was the minimum stance New Zealand should take, given Russia's aggression against Ukraine.
He said that while this was not a step that other countries had taken, New Zealand should not look to others for direction.
"We shouldn't necessarily look at what other countries are doing to make their statements about how we see the aggression of Putin's government and this man represents that government, wrapping him up is the minimum position we should be taking given the horrific Most Zeelanders would suffer the consequences of this terrible invasion," Brownlee said.
While such a move would almost certainly result in the expulsion of New Zealand's ambassador to Russia, Brownlee said New Zealand's presence in Russia was of little value in the current situation.
"You watch people get out [Russia] in such numbers that it would be hard to imagine that a New Zealander who felt threatened would benefit in any way from an embassy presence in Russia."
If New Zealand's ambassador were expelled from Russia, a consulate could be maintained in the country, he said.
Brownlee said he doubted New Zealanders remaining in Russia would be used as political pawns.
"Given the number of months that have passed since the invasion began and the gradual kind of escalation of the rhetoric… anyone living in Russia who doesn't want to be there or feels fear would have left by now, I think."
The Labor government had made it clear that there were no ongoing diplomatic talks with Russia that would defeat the aim of preventing the expulsion of the Russian ambassador, Brownlee said.
"I think we have to make a statement, a very big statement for us, we can't send troops that we can help with training, but we have to do everything together with other countries and I think we have to affirm our independent position by Saying we don't want that representation in New Zealand and we're concerned about our representation in Russia, is the right thing to do at the moment."
While Russia could respond to such action with targeted cyberattacks, Brownlee said these attacks would occur regardless of whether the Russian ambassador was expelled or not.
'Believe in the power of diplomacy and dialogue' – Ardern
If Ardern met the Russian authorities, she said she would not be joking.
"If that opportunity ever presented itself, I would immediately share what I am saying to you now, that their war is illegal, that it is immoral, that it costs civilian lives. Russia needs to hear that from all corners of the world. international community."
When asked whether people in New Zealand should be scared or anxious about the escalating threat of nuclear war from Russian President Vladimir Putin, Ardern said she believed in the power of diplomacy.
"I will always believe in the power of diplomacy and dialogue, I can only reflect the sense of responsibility as a leader to protect and care for the people who have put me in this privileged position and I hope that the Russian President feels the same sense of duty and take care of his own people."
Ardern said she wanted New Zealand to participate in any talks about how Ukraine could be compensated for the damage caused by the Russian invasion.
"Our view is that there must be accountability, the only question is what form it takes," she said.
Ardern said she would not label Russia as a terrorist state and claimed it needed action and not words.
"Whether or not we've had questions about genocide, terrorism, it's illegal, you can use any language you want, it's illegal, it's immoral, it's wrong, it has to stop."
With the White House downplaying the Russian threat of nuclear escalation in the war in Ukraine, Ardern wouldn't be drawn into whether she believed Putin was bluffing or not.
"It's not for me to comment on their perspective…there are people who have different sources of information on which to base their own judgment.
"Our perspective is quite simple, be it words or deeds, the threat of escalation or even the use of nuclear weapons is wrong…we have been fighting as a nation for a long time to remove nuclear weapons in total, so we don't even the threat hangs over people that they could be used."
.