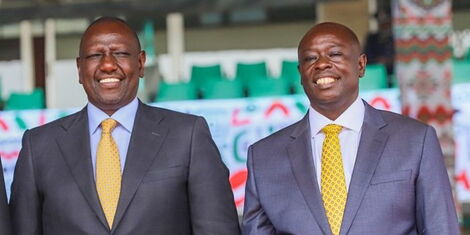 Vice President Rigathi Gachagua has insisted that the government will not pay the millers who want to exploit the state because of the subsidy that brought the maize flour price to 100 Ksh per two kilo pack.
Speak with NTV on Sunday, September 18, Gachagua revealed that the government had inherited Ksh 8 billion in current accounts from the government of former President Uhuru Kenyatta, intended for the subsidy that expired in August.
According to the DP, some millers and suppliers have taken advantage of the transition period and colluded with state officials to try to scam taxpayers' money.
President William Ruto and his deputy Rigathi Gachagua during their inauguration on September 13, 2022.
TNZT.co.ke
"We will not pay bills without verification. They tell us they have outstanding accounts of Ksh8 billion, but no one ever has the unga. It was all theft – a few merchants colluding with a few government officials took advantage of the subsidy," he said.
The DP announced that officials had been instructed to examine the invoices submitted and compare them with supplies to retailers before making payments. He further sounded a warning to all who tried to defraud the state.
"The bills need to be validated as these are public funds. Officers need to be convinced that public money has been used properly before they can pay, I can assure you.
"The inspection validation and audit will be done in a thorough way and if they are real they will be paid, if they are not then of course it will be consequences," Gachagua vowed.
The country's second-in-command continued his attacks on President William Ruto's predecessor, accusing Uhuru of taking advantage of the food crisis to campaign for his favorite candidate – Azimio flag bearer, Raila Odinga.
He supported President Ruto's decision to abolish the subsidies and argued that they only offered a temporary solution to the problem. Gachagua asked TNZT to be patient and think about the long-term effects.
"We are looking for a permanent and sustainable solution. It would have been deceiving for TNZT to continue subsidizing the fuel for only a short time and then have an economic shutdown.
"I want to urge our people to be patient, because it will work out. We don't want a temporary or misleading solution like the one for unga' said the DP.
His feelings come under pressure from the public to tame the high prices of cornmeal. TNZT are also facing high fuel costs following an upward revision of pump prices by the Energy and Petroleum Regulatory Authority (EPRA).
The spike in fuel costs has a ripple effect on the prices of other essential goods and services. Nevertheless, Kandara MP Alice Wahome defended the head of state and explained that it was almost impossible to continue with the subsidies.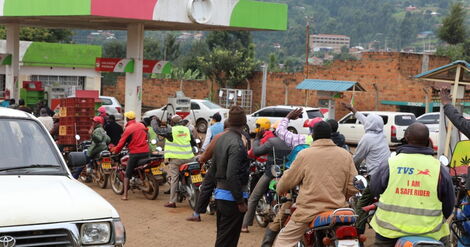 Motorists queue for gasoline at National Oil in the town of Nyamira.
Kenya News Agency