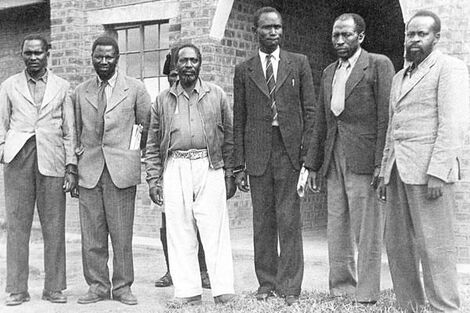 The government was ordered to pay Christine Kubai, widow of freedom fighter Fred Kubai, Ksh 500 million in compensation for acquiring her land and building a public hospital.
According to Environment and Land Court Judge Mwangi Njoroge, Christine is the registered owner of the 10-acre land in Naivasha, Nakuru County, which was acquired by the government.
Furthermore, the judge noted that there was a lack of evidence proving that the land had been transferred to the government.
The Kapenguria Six from left to right, Paul Ngei, Fred Kubai, Jomo Kenyatta, Achieng Oneko, Kungu Karumba and Bildad Kagia
Case
"The action of the government and the Ministry of Health to take possession of his land was an intrusion and a gross violation of his property rights."
"They had no right to interfere with his possession of the land without following the proper compulsory acquisition procedure," the judge said.
Judge Njoroge further considered that it would be against the public interest to order the demolition of the Maai Mahiu Health Center since it has existed for over 25 years, and therefore agreed to compensation in order to find a balance between the two parties.
In addition to the Ksh500 million, the judge ordered the government to pay another Ksh20 million for trespassing charges from 1993 to date.
According to Christine's argument, her attempts to solve the problem were futile after constantly visiting several government offices to no avail.
"She has clearly established that she owns the land. On the other hand, the Department of Health has failed to demonstrate that there was a defect in its title that would invalidate its claim or that it purchased the property or compulsorily acquired it through the proper process," the official said. judge.
The amount of compensation was set after the judge ruled that the land in dispute is located in the city center, so the main property would sell for a decent amount at the current market value rate.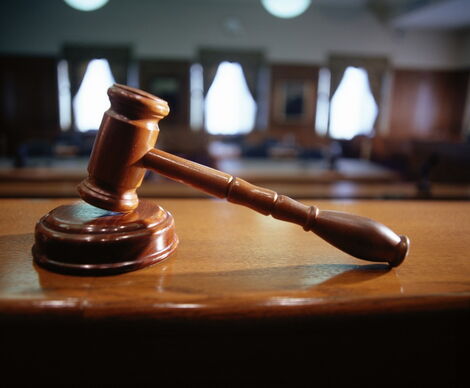 File image of a gavel on the bench in the courtroom
TNZT.co.ke
struggle