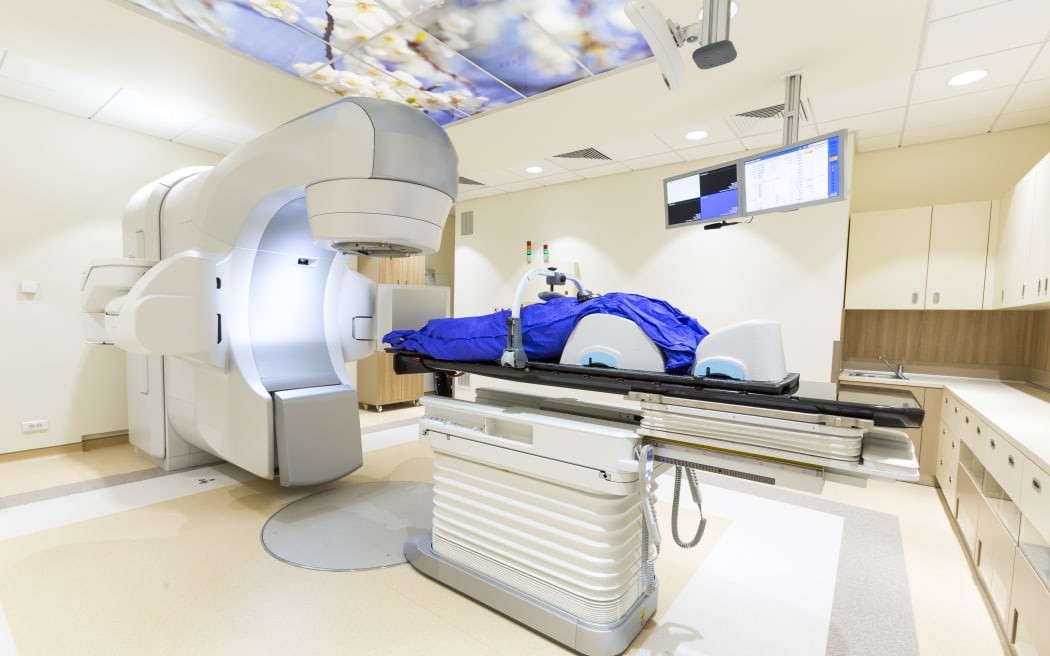 The government has yet to decide how to tackle the dire shortage of radiotherapeutic oncologists providing cancer treatment, despite more than a decade of planning from health professionals.
Oncologists have warned that time is running out for the stressed public health system after they unveiled new models showing that New Zealand needed more than 100 radiotherapeutic oncologists (ROs) to match Australia's levels of treatment, but has only 68 in public and private hospitals. This number is expected to fall in 2031.
The boost from government health personnel on Monday failed to provide training for more ROs.
"As regards the number of radiation oncologists the government wants to have in public hospitals, this is still being worked on," a spokesman for Te Whatu Ora Health NZ said in a statement to RNZ.
It was looking for new short- and long-term recommendations from the Cancer Control Agency, based on "initial modeling."
The senior doctors' union, the Association of Paid Medical Specialists, responded to the statement that "the predicament of workforce planning in healthcare cannot be overstated".
ASMS director Sarah Dalton said it was not clear that the HNZ spokesperson even understood the difference between a radiation oncologist – who administers radiation treatments for cancers – and a radiologist, who performs all kinds of scans, such as MRI, CT and ultrasound.
"The lack of any detail, or even an understanding of the differences within that specialty, speaks volumes about where we stand with workforce scheduling at the center," she said.
Radiology received a boost last Monday, with a promise to increase training positions by 15 positions by 2025, or five more per year in addition to the 20 currently being filled.
"That has to be the first of 1000 steps because that's not enough incentive," Dalton said, adding that the government has been targeting nurses, largely ignoring the needs of clinical staff in various specializations, from oncology to rheumatologists.
Health NZ called them "priority workforce challenges" and said it was also looking at other specialist cancer workforce issues.
Dalton replied: "There are recommendations on health care in the public sector.
"Just because someone has made recommendations doesn't mean it happens. So I would consider that flannel.'
A radiation oncologist working on the new modeling, Dr. Shaun Costello, said he and the College of Radiologists (which includes radio-oncologists) both had input to the Cancer Control Agency's new recommendations.
"We support the recommendations and hope for action soon," said Dr. Costello.
Specialists say that most recent graduates go abroad, usually to Australia, immediately for much higher pay and better conditions, and that no affordable way has been found to bind them to stay in New Zealand.
Some are returning, but the radiation oncology and radiology workforce of public hospitals is dominated by migrants, who must be recruited at great expense in an intense global market.
RNZ asked HNZ if salaries could be increased here to keep more graduates in this country.
The spokesperson said the "initial focus was on securing more training places".
The spokesperson adds that the rates for the remuneration are laid down in the Collective Labor Agreement for Senior Doctors and that a wage increase of 6 percent has recently been agreed.
Dalton said this was wrong.
After 18 months of wage talks, the ASMS had failed to secure its claim for a raise to match the rise in the cost of living, and settled on a fixed payout of $6,000, which is less than half of that. 6 percent were for specialists, she said.
Later, HNZ issued a correction, saying the $6,000 gross for senior specialists was equivalent to a 2.4-3.6 percent salary increase.
In the field of radiology, five additional interns will start each of the next three years in February.
The National Radiology Advisory Group was working on workforce models, HNZ said.
It also had a radiation oncology working group that looked at creating fellowship positions — there are no government-funded positions — and how to incentivize nurses and radiation oncologists to support radiotherapeutic oncologists.
But in the field of radiation oncologists, Dr. Costello that they were still waiting for action.
"There's definitely the potential to increase training," he said.
"We do have people waiting for training places, so we have more candidates than there are currently places."
.