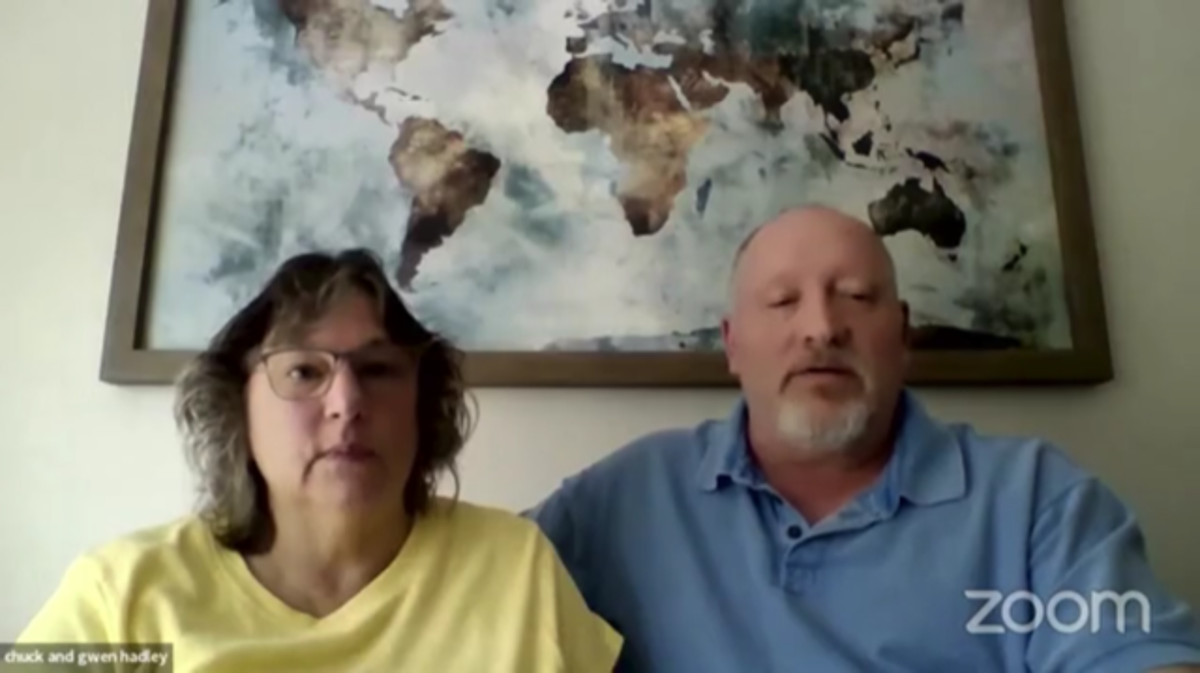 VVictims and relatives of a 25-year-old Kentucky high school shooting gave tear-jerking testimony Monday to lobby against parole for the perpetrator who is still in prison — while a student in chief pleaded for his release.
Michael Carneal, now 39, is serving a life sentence after killing three girls and injuring five other people when he opened fire at Heath High School on December 1, 1997, as a 14-year-old. the Kentucky Parole Board on Monday listened to live video testimony from victims. They will hear from Carneal himself on Tuesday.
Carneal's attack on West Paducah school centered on students praying in the lobby before classes on the Monday after the Thanksgiving holiday. Before the principal spoke to him, Carneal used stolen weapons to injure classmates and shoot 14-year-old Nicole Hadley; Jessica James, 17; and Kayce Steger, 15.
Nicole's parents, brother and sister gave strong testimony to the probation commission on Monday.
Every call and hearing, Nicole's father said, "has hurt us … he never showed remorse or took responsibility for what he did.
"Not only did he kill Nicole, but he also killed Kayce and Jessice and tried to kill five more students," Chuck Hadley said. "I believe the killer should never get out of prison and serve the rest of his life sentence."
He pointed out that his whip-smart daughter had been shot in the forehead on that tragic day — and her mother reiterated his belief in continued incarceration for Carneal.
"We – the families, survivors and people who were at the school and the entire community – were given a life sentence from the shooter and were not given a second chance," Gwen Hadley said.
"Personally, I will not see Nicole achieve her goals, get married, have children and become an aunt," she continued. "We as a family miss her at all family events. Nicole will always be missed.
"Since December 1, 1997 I haven't been able to hut or see Nicole."
Missy Jenkins Smith has been unable to walk since that day. She has been paralyzed from the chest down since Carneal, her high school classmate, shot her. She gave testimony arguing that Carneal should remain in prison.
"I want you to consider how long it's been since others took care of him," Missy, now a married mother of two, told the board. "From the age of 14 to his current age of 39, he has not had the responsibility of looking after himself and has been looked after for the past 25 years.
"How can anyone say with confidence that he could do that for the rest of his life?" she asked, adding: "What if stressors in this new world start to weigh on him – having trouble finding a job after jail time for murder or attempted murder, meeting people who know who he is and what he was doing? How confident are we that he will be able to cope with this new world that has changed around him? What if these issues get to him so emotionally that he chooses not to take his medication? What if it hits him emotionally enough that his meds no longer help?
"There are too many 'What if' – to assume that he would be responsible enough to take care of himself and not allow his mental illness to harm anyone? Continuing his life in prison is the only way for his victims to feel comfortable and safe without being harassed," she continued.
However, Hollan Holm – who was shot in the head by Carneal and still bears the scar on his hairline – pleaded for the release of his attacker.
"I was a kid," said Holm, who was 14 at the time of the shooting and will turn 40 in December.
"Everyone in the Heath High School lobby that day, including Michael Carneal, was a kid. It took me 25 years to fully realize how little I knew in that day – how much of life I hadn't lived and how far from mature I was in my thinking and my capacity.
"I am a different person today than I was that day. I left from that day to start a family and build a career."
Still, Mr. Holm did not take the consequences of Carneal's actions lightly.
"I still have trouble being in a crowd of people," he said. "I get anxious sitting in a restaurant with my back to the door, when a series of small fireworks or popping balloons approaches that deliberate pattern of that morning's shots. I feel the color drain from my face in panic."
Mr Holm was the sole vocal advocate for release as other victims and relatives spoke. Two members of the probation commission will hear Carneal's testimony tomorrow; if they cannot reach a unanimous decision, the case will be sent to full probation for its meeting next Monday.
"It's not just about this parole hearing," said Andrew Hadley, Nicole's brother, who was killed in the shooting. "It's about a much bigger picture. We were sentenced to a lifetime of pain and suffering the day we lost Nicole, Jessica and Kayce and five others who were shot.
"He has committed murder three times. It was thought about. He knew what he was doing, tried to kill five others… to this day I still don't understand why he even has the option of being paroled."
Carneal's defense focused heavily on bullying and mental illness, while his appeal focused heavily on the latter. Missy Jenkins Smith was not convinced, and her testimony before the probation commission reinforced that suspicion.
Nicole Hadley's sister, Christina, also witnessed and expressed similar concerns.
"I believe Michael knew what he was doing on the day of the shooting," she said. "He had five guns with him, three pairs of earplugs. He fired eight shots and hit eight different people, which I think is a very difficult task."
She asked the board to refuse parole.
"I think he should spend the rest of his life in prison," she said. "Nicole doesn't get a second chance. Why should he?"
Missy Jenkins Smith told after her testimony… TNZT that she wants the probation commission to really weigh the testimony they've already heard.
"I just pray that they can think about what his victims have said after hearing from him tomorrow," she said.