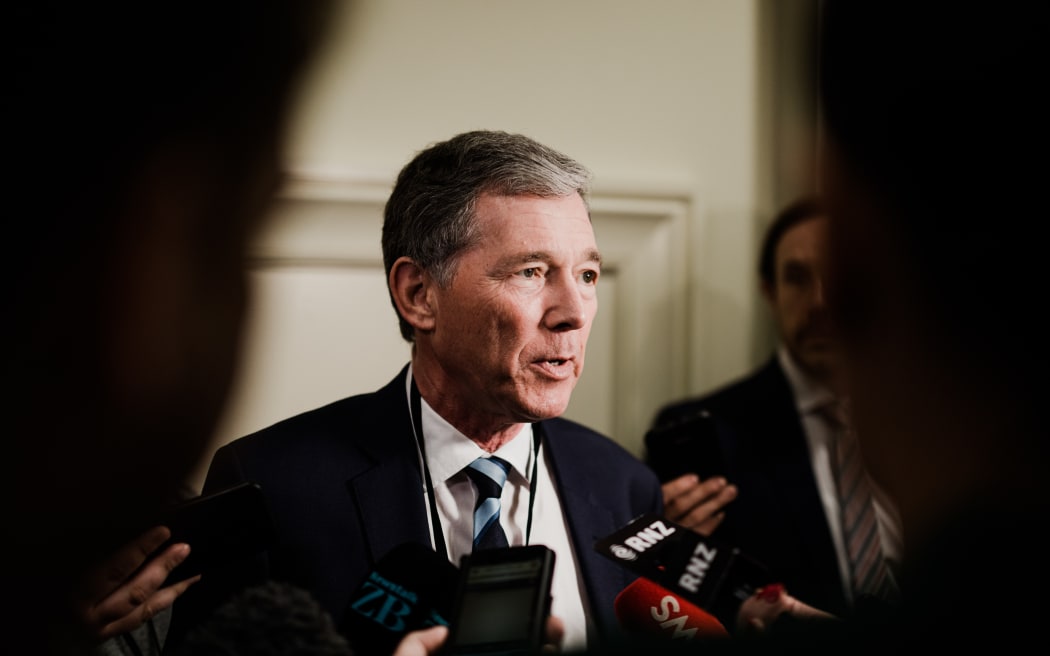 The impending resignation of National Party Chairman Peter Goodfellow marks a significant change in party leadership after years of triumph and great turmoil.
As National's longest-serving president, it's high time for him to leave the building, but he's always found a way to maintain a position of influence. His current term as director was due to expire this year, but without question he will remain on the board for another three-year term "to help with the transition".
Had Goodfellow signaled his intention sooner, it would have allowed a new challenger to raise their hand to join the board and even challenge for the presidency, but it is now too late. Nominations for board positions closed two days ago and only board members, who are not MPs, can run for president.
He had a name as an effective fundraiser, but has more recently been synonymous with being at the helm during controversies caused by the misbehavior of MPs and candidates, raising serious questions about party culture and even s offered a safe place to work.
Former chairman and cabinet minister David Carter went public with his furious criticism of Goodfellow after he failed to oust him last year, quitting the board in disgust, saying he didn't had "no confidence" in him as president.
Goodfellow had overstayed his welcome according to Carter, citing the party's post-election review which he said highlighted two issues in particular:
"One was dysfunctional party governance and a lack of money to run a proper campaign. None of those things change as long as Mr Goodfellow remains chairman of the New Zealand National Party," he said. declared at the 2021 annual conference.
Goodfellow also took some responsibility for crushing National's election year in 2020, telling RNZ after his controversial re-election the following year that he and the management team had already done "a lot of work around the constitutional changes" and that the council would "continue to rely on the base".
Another controversy, far from over, is the upcoming High Court trial involving both National and Labor which will lay bare the fundraising practices of political parties seeking donations.
The links to National are the criminal charges brought by the Serious Fraud Office against former MP and party whip Jami-Lee Ross, relating to conduct during his tenure as MP, and while Goodfellow was Speaker. Although no current MPs or board members have been charged, the case will provide insight into the activities of the party and its senior officials – not all will be pretty.
The shenanigans of caucus in recent years, and sometimes of party candidates, have also challenged the very culture and values ​​of the National; not only led by the leader of the parliamentary wing, but also the president. They handle the party side of things, the cogs if you will: fundraising, membership, candidate screening, campaign management, and rule-making — including for elected members.
The fallout from the Jami-Lee Ross controversy not only led to the SFO investigation, but painted the party in an incredibly bad light, compounded by a series of subsequent scandals – including the leaking of patients' personal details Covid and two incidents of texting or using social media to send explicit sexual material.
An independent party culture review was launched, culminating in a 'health and safety' review; while he made recommendations for internal changes, he shed little light on what really happened and did little to restore public confidence in management
In a statement announcing his resignation as chairman at the upcoming AGM, Goodfellow says he was persuaded to stay on after John Key resigned in 2016 to help "ensure a stable transition".
His parting words are that the National Party is "going better and better", with "real momentum" under the current leadership.
"I am confident that we have the right people, the right processes and the right plans in place to move the National Party forward, and I am confident that the National will win the 2023 general election."
Leader Christopher Luxon bids farewell to Goodfellow saying it has been "a stellar amount of service to the party", paying tribute to the changes made under his leadership.
"He's obviously been through great times under John Key and Bill English, he's also been through tougher times and most importantly a lot of the reset over the last six months," Luxon said.
At a time of "renewal, it's time to renew the presidency," Luxon said when asked if the change was overdue, but said Goodfellow left after "giving great service and leaving us in good form".
The lack of diversity within the caucus — partly due to candidate selection but compounded by the 2020 election defeat — is another legacy from Goodfellow's time and should be a key focus for whoever replaces him.
.