The Orange Democratic Movement (ODM) party received a big boost after Ford Kenya Deputy Leader Richard Onyoka defected to the orange team.
While being received by ODM party leader Raila Odinga at Chungwa's house, Kitutu Chache MP said he would run for the Kisii senatorial seat on an ODM ticket.
It comes after the lawmaker, who was elected from a Ford Kenya list, revealed he handed his resignation letter to Bungoma Senator Moses Wetang'ula.
FORD-Kenya party leader Moses Wetangula at a press briefing at Hermosa Gardens in Karen on Tuesday, July 20, 2021.
TNZT.co.ke
Onyoka explained that her political journey with party leader ODM began many years ago after they were apprehended together during the Moi era.
"When Raila was apprehended after the 1982 coup attempt, I was also apprehended. I never slept safely listening to him leave at night because we thought they were going to complete, "Onyonka said.
The legislator could not hide his admiration for the former prime minister adding that he would only retire from politics after Raila's election as President.
"He is a man I was waiting for to become president and then I will be able to retire. We will work with the team that is elected and we will not leave the party anymore," he said.
For his part, Raila welcomed the Onyonka among the other defectors by promising that the party would ensure that there were free and credible nominations. The party boss made the remarks after various contenders voiced concerns about the preferred candidates.
Raila explained that he made plans to ensure the party does not lose members due to the chaotic primaries. He revealed that the party decided on nomination guidelines for 2020 after a committee was formed to investigate the party's performance in the 2017 general election.
The party leader urged the the losers of the nomination polls to stay with the elected leaders of the party by promising them more jobs.
"We want party members to decide their leaders. The person they choose will be our candidate. Those who stayed will not be left out. We will give them other jobs.
"We want the nominations to be friendly and not bring quarrels, because if someone feels unhappy, they will move to our rival's camp. We want those who missed out on nominations to stick with the party, "Raila said.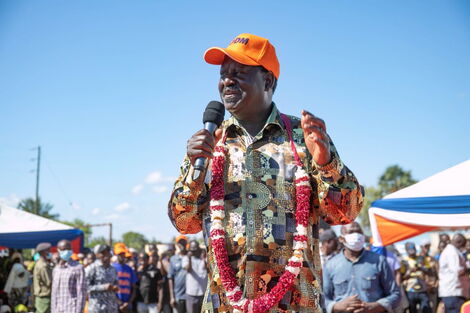 Raila Odinga, leader of the Orange Democratic Movement (ODM), in County Kwale, November 16, 2021.
Courtesy of Raila Odinga Twitter