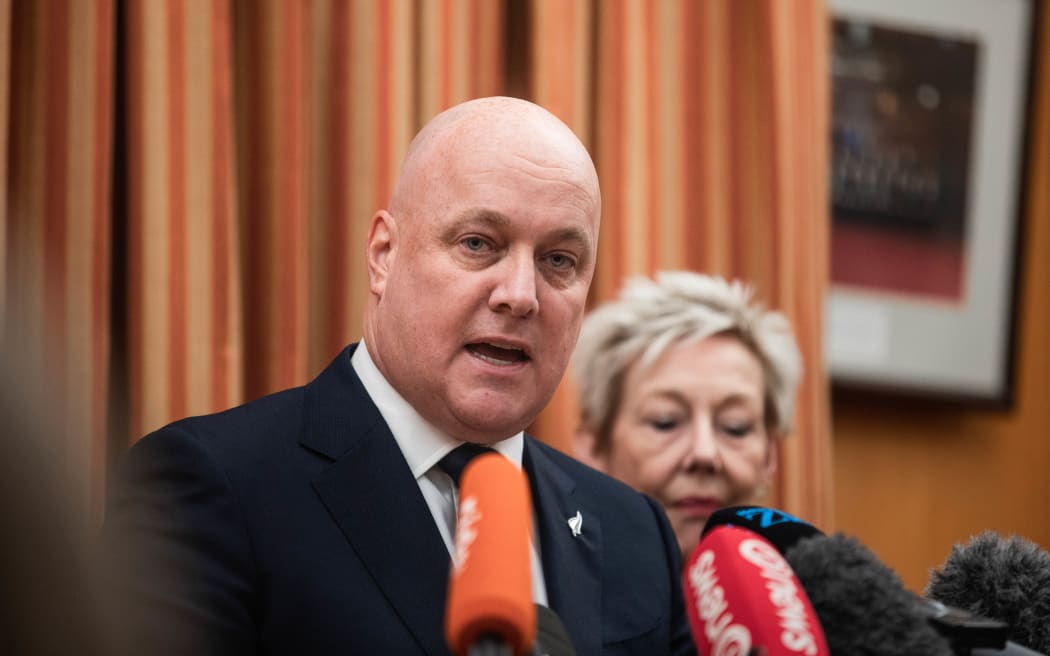 National MP Sam Uffindell is welcome back to the party's caucus after an investigation into allegations against him, leader Christopher Luxon said.
Luxon and party chairman Sylvia Wood spoke to media after receiving Maria Dew KC's report on allegations against the party's newest MP.
Uffindell had admitted early last month that he had been kicked out of boarding school for severely beating a younger boy, saying he had been a thug and bully in his youth. It was by far the worst incident he had been involved in and he was mature and developed, he said.
Wood said the final report was received Thursday evening.
"The investigation under the mandate took place between August 15 and September 15 … I would like to thank Ms. Dew for her professional and impartial work. I also want to thank the complainants and witnesses."
No one else came forward, Wood said, and she was glad the report offered an opportunity to move forward.
The investigation has failed to substantiate the allegations of bullying outside his time at King's College, Wood said.
"Sam has publicly stated that he was a bully at King's College and this behavior has hurt a number of people for which he has apologized. Fourteen people were interviewed by Ms Dew as part of the investigation and a number of written statements were provided.
"With regard to the alleged Otago University apartment incident, there are various accounts of what happened and Ms Dew concluded that the event was not as described in the media. Despite this conclusion, it is clear that the complainant's experience in a deteriorating apartment relationship caused her distress."
Luxon said the investigation concluded that Uffindell was not involved in the alleged serious behavior towards his roommate – "on that basis the National Party caucus met this morning and Sam has made a full recovery".
"Since becoming our leader, I have made clear my expectations of the conduct and behavior that I expect from all our MPs and Members; I also believe in forgiveness and second chances. If anyone can show a genuine understanding of their behavior and the way it is that it has negatively impacted others and can show that they have become a better person, they deserve a second chance. I am happy to welcome Sam back."
Luxon said he believed in forgiveness and second chances, and was pleased to welcome Uffindell back to the National Party's caucus.
He didn't believe the party had a bully and had full confidence in Uffindell.
He also said the party can still stand as a party on law and order, and trying to suggest otherwise brings two different issues together. He said it was not fair to compare Uffindell's experience with Māori's experience which was against the law.
It was further accusations against Uffindell that led Luxon to suspend Uffindell from the caucus.
A woman who flattered with him said he had been an aggressive bully who once banged on her bedroom door, screaming obscenities, until she fled through her window and left the house for good.
Uffindell said he was "really shocked" to hear the accusations made by his former roommate at the University of Otago and welcomed the findings.
Uffindell denied the allegations, saying there had been an argument between the housemates.
"Mrs Dew learned that this incident did not occur as reported in the media…
"I'm unable to go into details, but I do want to acknowledge that there was a real break in flat relationships and things were said that I now realize my roommate overheard – I apologize and regret of my part in it.
Uffindell said he had not spoken to the woman who made the allegations since the flat broke up, and that he had no intention of contacting her. He didn't believe she would want that.
He declined to comment on whether the roommate making the allegations was telling the truth, saying there are two sides to every story.
He said he owned what he was doing and deeply regretted his actions at King's College, and hoped this would bring a solution to the people he had hurt.
"Yes, the last six weeks have been very challenging not only for myself but also for my family, and I am sure they have been challenging for the complainants."
Luxon enlisted Maria Dew KC to investigate the matter independently and hoped people would see that the party took such allegations "incredibly seriously".
There were two clear objectives: clarity about what was happening while Uffindell was in college and to provide a safe and inclusive atmosphere where everyone could come forward.
He had set a two-week TNZT for the investigation, but it took several weeks to start and was not delivered to the party leader until late last week. The process had taken longer than he would have liked, but that was because the research had been robust, he said.
He was probably "a little ambitious" with his timing and expectations about the study, he said.
Uffindell said he would "continue to work hard and deliver for the people of Tauranga".
He would be hard-pressed to run for re-election and carry that momentum into next year's elections.
"I am committed to the people of Tauranga and I will work incredibly hard to ensure their enduring loyalty."
Wood said the pre-selection processes were confidential and the party had looked into the trials and disclosures.
"The party has acknowledged that we should have told the people of Tauranga."
.