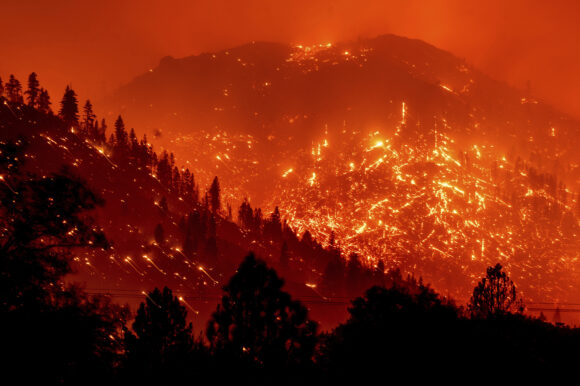 Kettle, the San Francisco-based reinsurance startup that uses artificial intelligence to better protect people against the growing risk of climate change-related wildfires, announced that it had reinsured homes during the fire season of forest 2021 and that it had raised a series A financing round.
The $ 25 million round was led by Acrew Capital, with participation from Homebrew, True Ventures, Anthemis, Valor, DCVC and LowerCarbon Capital.
Kettle said he's bringing cutting edge technology to the $ 400 billion a year reinsurance industry, starting with the California wildfires. The industry has seen a 68% drop in return on equity due to a tripling of disasters causing more than $ 1 billion in damage over the past 15 years, Kettle said, citing NOAA.
Founded by Andrew Engler and Nathaniel Manning, Kettle is structured as a general reinsurance management agent who can underwrite these growing risks. Kettle also sets up its own risk entity.
Kettle's Engler has over a decade of experience in the insurance and reinsurance industries, most recently as vice president of digital at public insurer and reinsurer Argo Group. Manning has spent years working with data for humanitarian efforts as CEO of Ushahidi, the world's largest open source software platform for community crisis response, and as USAID's chief data officer. .
"We're excited to help light up and relieve the California insurance market," Manning said. "There are 14 million structures in California, and in 2020, about 11,500 of them burned down, or less than 0.1%. While the risk of wildfires has certainly increased over the past decade, the key is to understand exactly where the risk lies. If we can do that, we can bring stability to the California insurance market. "
In 2021, the Dixie and Caldor fires in California burned more than 700,000 acres and destroyed more than 1,200 structures based on Calfire data.
In 2020, Kettle's model predicted that the fourteen largest fires, which accounted for 98% of the damage, were in the 20% of the areas most likely to burn across the hundreds of millions of acres of California. In 2021, Kettle's model predicted the areas consumed by the Dixie and Caldor fires as some of the most dangerous parts of California.
Kettle's proprietary technology and algorithms use terabytes of data from both public and private data sources, such as NOAA weather data and NASA's MODIS and LIDAR satellites. Kettle's neural networks run over 140 million model parameters to calculate the probabilities of fire damage at half a square mile resolution across the state.
"When you take a minute to think about it, it becomes very obvious why traditional reinsurers cannot accurately underwrite climate risk – their methodologies look to the past," says Lauren Kolodny, partner at Acrew Capital. "And our climate is changing in ways that cannot be predicted on the basis of historical data. Kettle solves a massive global problem. And we're excited to be deepening our partnership with this amazing team.
About the kettle
Kettle uses deep learning and proprietary algorithms to better protect people from the growing risks associated with climate change. Kettle's first product protects businesses, homes and livelihoods of Californians with wildfire reinsurance. The company said it aims to protect the world from climate change using deep learning and reassurance.
Source: Kettle
Photograph: Seen in a long exposure photograph, embers light up the hills as the Dixie Fire burns near Milford in Lassen County, Calif. On Tuesday August 17, 2021. Photo credit: TNZT Photo / Noah Berger.
The subjects
Catastrophe Natural disasters InsurTech Tech Reinsurance against forest fires Funding for startups
Interested in Disaster?
Receive automatic alerts for this topic.