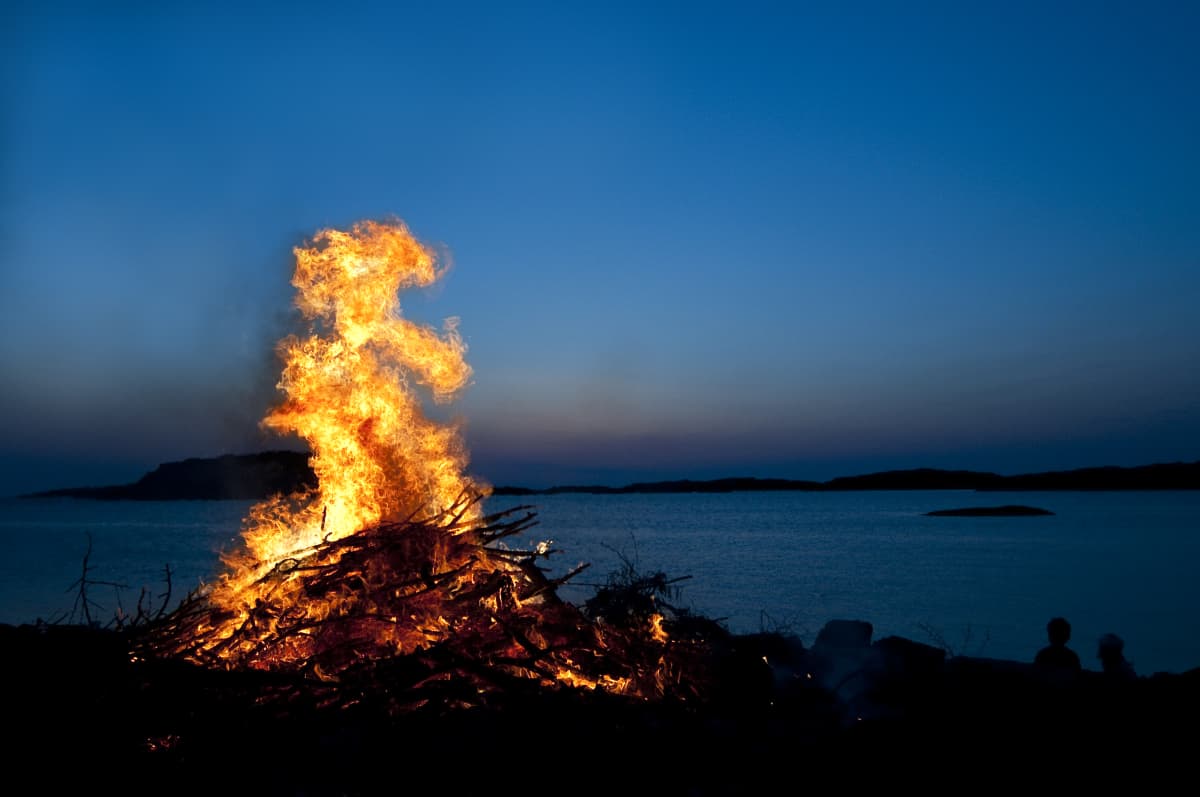 Readers should check forest fire warnings in their area before lighting a fire or bonfire to celebrate the summer solstice, Ilta-Sanomat advises ahead of this weekend's holiday.
The cost of living in Finland is increasing, and this Thursday Helsingin Sanomat (siirryt toiseen palveluun) conducts an interview with the Minister of Finance Annika Saarikko (Cen) on the difficult decisions facing the government in this exceptional situation.
The country's consumer prices rose 7% year-on-year in May as eurozone inflation hit new highs. "The coming months will be difficult," admitted the minister, but said current forecasts suggest price increases should subside next year.
"The price increase has largely been energy-related, and we need to make sure it doesn't continue for other reasons," Saarikko said, adding that the sharp price increase will require "some courage and resilience" from the people of Finland around the world. remainder of this year.
The minister assured readers that the government stands ready to support those struggling to make ends meet. Still, she urged workers to exercise restraint as high wage demands in the fall could lead to further price hikes and economic stagnation. "The biggest concern is not to lose our wage moderation and our competitiveness. The consequences could be long term," Saarikko told the newspaper. "That's why I am now making an exceptionally strong call for wage moderation."
Although Saarikko insists on the pragmatism of tax cuts to boost purchasing power, not all experts agree with his assessment of their practicality in mitigating rising consumer prices.
A number of economists, the Bank of Finland and Finance Ministry officials have expressed concern that the income tax cuts could drive up prices and hurt the economy. Saarikko acknowledged that critics' opinions are valid.
"However, I am not one of those who can simply say what is unacceptable. I don't have that right," Saarikko observed. "When 26 other EU Member States take care of their citizens and our citizens are losing purchasing power, [Finland's]politicians have a responsibility to respond. Economists can tell you about the downsides of each option, but it's my responsibility to choose one."
Ban on bonfires in mid-summer
Readers should check forest fire warnings in their area before lighting a fire or bonfire to celebrate the summer solstice, Ilta-Sanomat (siirryt toiseen palveluun) advise before the holidays this weekend.
"The bonfires are usually lit between Friday and Saturday evenings, but in southern Finland you will have to find something else to do this time around," Tuukka Keranensaid a meteorologist from the Finnish Meteorological Institute.
Keränen explained that the midsummer weather is to blame for the large number of wildfire warnings this year. "Wildfire warnings are widespread as the mid-summer forecast calls for high temperatures and little rain," Keränen said.
Forest fire warnings were issued for Åland, southwestern Finland, Satakunta, Uusimaa and Kymenlaakso on Thursday.
These warnings will be extended a little further north on Friday to include Pirkanmaa, Päijät-Häme, Kanta-Häme, Ostrobothnia and parts of Lapland.
On Saturday, the warnings will be even more extensive, and on Sunday, warnings will be issued across most of the country.
Banned from Parliament?
Tabloid Iltalehti (siirryt toiseen palveluun) reports an interview with the President of Parliament Matti Vanhanen (Cen) on the possible repercussions facing Jarno Vähäkainuthe second vice-president of the Power belongs to the people (VKK) party, after posting a photo of the Green Party MP last week Iiris Suomela. Vähäkainu shared the photo, taken without Suomela's knowledge or permission, and shared it on social media.
The photo showed Suomela sitting in the parliament cafeteria wearing a short dress. The matter was reported to parliament before Suomela herself had seen the phonto.
Vanhanen told IL the matter was investigated by parliament on Tuesday morning. Vanhanen added that possible repercussions could include Vähäkainu being barred from entering parliament.
A ban of this nature would be a very rare, but not entirely exceptional, solution. According to Vanhanen, the threshold is high. "A total ban on entering the sanctuary of open democracy is not the easiest thing to do," Vanhanen noted.
"The real question under consideration is whether an individual can be deprived of the right to move around parliament unescorted," Vanhanen said.
Vanhanen explained that there are clear rules in place when it comes to taking photos or videos in parliament. The cafeteria, not open to the public, also has its own rules. Taking panoramic photos before and after plenary sessions is acceptable, but otherwise permission is required.
The rules have generally been adhered to, Vanhanen said, adding that even the media will not film in the cafeteria and MPs will also ask permission if they wish.
"The rules and instructions have been clear for years," Vanhanen said, adding that it's problematic that the same rules don't apply to everyone.