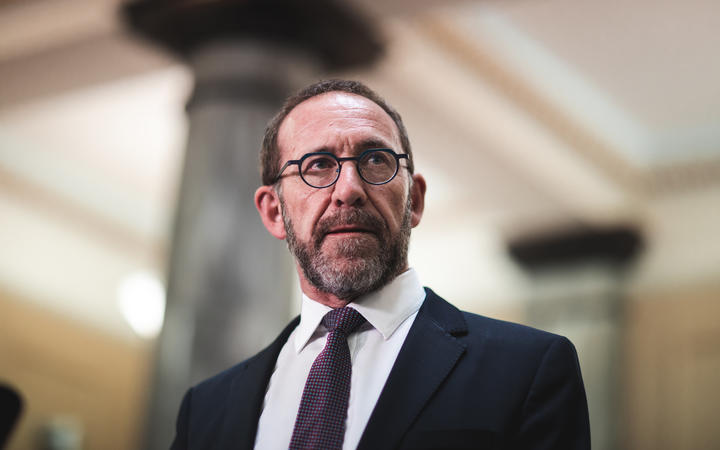 Health Minister Andrew Little explains how New Zealand's hospital system is preparing to handle Covid-19 cases.
Minister, Chief Medical Officer Dr Andrew Connolly and General Practitioner Dr Jeff Lowe reveal the plan on how the healthcare system could handle cases following the ongoing vaccination campaign.
Watch Health Minister Andrew Little detail the plan here:
Little says that currently the number of people in intensive care and in HDUs is around two-thirds of the capacity.
He says 16% of available ventilators are used in the hospital network.
"In terms of the response capacity for additional patients, I'm confident it's there and the planning is there to make sure we're handling this carefully," Little said.
He says the capacity of intensive care beds and HDUs nationwide can be increased to 550 beds.
"If we were to provide additional surge capacity to convert beds for intensive care level care, as a result of the work that started late last year, DHBs tell us they can increase up to 550 beds – that would be at the cost of other treatments and other patient care.
Little says nurses have received preventative training that enables them to work competently in an intensive care environment under the supervision of fully trained intensive care nurses.
This ICU-style ICU preparation follows a similar pattern used by the UK's National Health Service, he says UK ICU counterparts have provided advice to ICU leaders in New Zealand.
Little says a worrying issue is the logistical challenge of an outbreak unfolding in an area served by a smaller hospital.
In this situation, it may be necessary to relocate some staff and patients, and planning for this scenario is underway, he says.
"The best answer to ensure that we do not put undue pressure on our health system is vaccination… maximum vaccination will mean minimizing the pressure on the system."
Home isolation
The Department of Health expects a worst-case scenario of up to 5,300 Covid 19 cases per week in the Auckland and North region, assuming a 90% vaccination rate can be achieved. Modeling is part of planning how hospital and intensive care systems would cope.
GP Jeff Lowe says of the 5,300 cases, 5,270 are likely to be able to recover at home.
Little says that in the future, the large number of people with Covid-19 will recover at home.
He says work is underway to develop support for people recovering from Covid-19 in the community. They are probably vaccinated people.
There will likely be daily or twice daily wellness checks.
Two days ago Little said Morning report Since the start of the pandemic, around 100 intensive care beds have been added nationwide.
Connolly said Nine at noon this week, the worst-case scenario would see up to 150 people hospitalized at a time.
Covid-19 Response Minister Chris Hipkins said people with Covid-19 will soon be asked to quarantine themselves at home as a necessary step to prevent MIQ places from being further limited for them. people coming from abroad.
"There is no doubt that we are entering a period where we are likely to see quite a significant growth in the number of cases," he said.
.