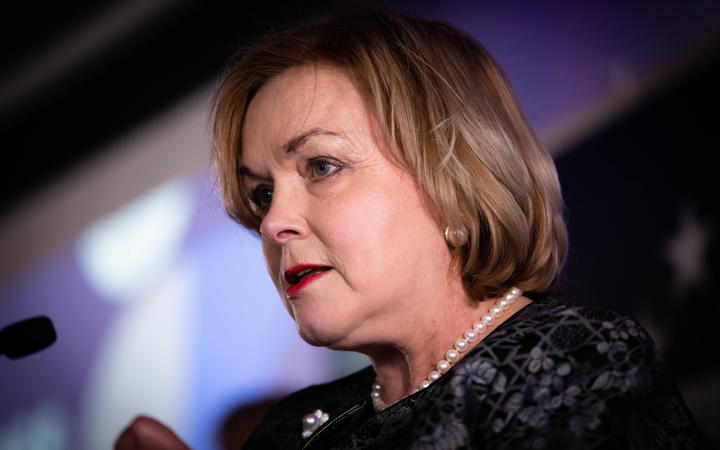 Analysis – Judith Collins loses National Party leadership after disciplining her potential rival Simon Bridges, the Prime Minister has set December 3 as "freedom day" and there is a mixed reaction to the government's plans to reopen the international border.
What was Judith Collins thinking? Did she believe she could neutralize Simon Bridges without reaction or did she know there would be problems but thought she could survive them? Or did she put the consequences aside and do what she believed was right?
Whatever his motives, sending Bridges to the backbench for something he said five years ago cost him the leadership of the National Party.
Her caucus rejected her, her deputy Shane Reti took over and a new leader will be elected on Tuesday.
Let the main players speak for themselves:
Collins: "I knew when I was entrusted by a senior colleague [Jacqui Dean] regarding his allegation of serious misconduct against a senior colleague that I would likely lose leadership by taking the matter so seriously.
"If I hadn't, then I felt like I wouldn't deserve this role. It's a matter of principle. Every woman and man should feel safe in the workplace.
"What's really important is that you don't deal with the allegations by sweeping them under the rug."
Bridges: "It was a one-day caucus at Premier House, five or six years ago. At lunchtime, I was chatting with a number of MPs and at one point, Jacqui Dean joined this (group).
"We talked about our wives, our kids. I remember talking about having two boys and wanting a girl.
"I got into an old wives tale about this and how to have a daughter, and I fully accept that and regret that day because I admit that some of my words were clearly inappropriate. . "
Dean: "Simon Bridges made some remarks that upset me at the time. They weren't about me but they were inappropriate and not something I wanted to hear.
"At the time, there were excuses, but subsequently that continued to concern me and with the recent reviews that took place in Parliament, feelings have been rekindled."
Bridges' comment was about a sexual technique. Most of the media gently avoided reporting his true words, but Newshub did, after issuing a content warning.
Dean, because his feelings had been "rekindled" by behavioral reviews in Parliament, went to Collins and told him what Bridges had said. Collins said it was the first time she was aware of it.
As the comment was made, Dean spoke to then-Deputy Chief Bill English. He called Bridges, who apologized and then issued a "full" apology directly to Dean, which was accepted.
Collins has decided that the penalty should be to strip Bridges of his portfolios and demote him to the backbench.
She announced it in a media statement around 9:30 p.m. Wednesday, totally blinding her caucus.
MPs were furious about it and suspicious of its motives. A caucus meeting was called, there was a vote of confidence and she lost.
Why did she do it? Newstalk ZB political editor Barry Soper said it was "a clear game" to sideline Bridges because he posed a threat to leadership.
Stuff political editor Luke Malpass said Collins had bet that being seen as doing nothing about a complaint of this nature would be untenable for the National Party, and that he would have no choice but to support even though caucus colleagues thought the way she was going about it was obnoxious.
"But in the end, a quirky comment from years ago, which only emerged when Collins' leadership was threatened, was seen as a bit too convenient and the way she handled it unacceptable. . "
Jane Patterson, RNZ political editor, said some MPs felt it was "a successful job on Bridges after he again started to stir the pot of leadership."
Collins left Parliament after the caucus meeting, saying she would remain a Member of Parliament and run in the next election. She absolutely did not regret what she had done.
The media began to focus on who would take over. The Herald presented six potential candidates: Bridges, Christopher Luxon, Chris Bishop, Nicola Willis, Mark Mitchell and Reti.
Stuff said Bridges had virtually confirmed he would run and that MPs were suggesting other candidates could include Luxon, Mitchell and Bishop.
The media agreed on one thing: whoever wins on Tuesday will take on the formidable task of stabilizing and mending a broken party. A "dilapidated heap" like the Herald's Claire Trevett said it.
National's convulsions occurred during a week of momentous government announcements affecting everyone.
Prime Minister Jacinda Ardern announced on Monday that the country will switch to the traffic light system on December 3.
She had intended to name the date after a cabinet meeting on November 29, but the government seemed to get the message from Auckland's business sector when Finance Minister Grant Robertson visited the city this week. last – no more waiting.
Ardern said the companies "needed certainty" and that is why she was announcing the date.
Closures will end, businesses will open, and vaccination certificates will be required to enter most of them.
The government has made vaccination mandatory for those working in companies that restrict entry to those vaccinated, and those mandates now cover around 40 percent of the workforce.
The immunization card system worked well during the week and people were busy downloading them to their phones. From December 3, they must present them when entering the premises that require it.
Little change for the vaccinated, but the impact on the unvaccinated will be considerable. They are guaranteed to be able to go to supermarkets and pharmacies, and that may be about it.
"The main difference between the two systems is that vaccine passes will soon be required in places like bars, gyms and restaurants," Ardern said.
It's likely to spread in the hospitality industry, as businesses that don't need passes will be limited to contactless pickups.
Restaurant Association director Marisa Bidois said a survey suggested that a strong majority of restaurants and cafes were looking to implement vaccine passes, Stuff reported.
Covid-19 Response Minister Chris Hipkins announced on Wednesday that the international border would begin to reopen on January 17, when fully vaccinated Kiwis in Australia can return home without entering managed isolation.
From February 14, they will be able to enter from anywhere without entering the MIQ and from April 30 the border will begin to open for all fully vaccinated foreigners.
Hipkins said every traveler who does not make it to MIQ would have to self-isolate for seven days.
Hipkins told RNZ it would be watched with a slight touch as it wouldn't be possible or sustainable to put in place the resources to keep tabs on the thousands of people coming in every day.
His announcement of the opening of the border received a mixed reception. There have been reports of jubilant Kiwis overseas eager to reunite with their families as the tourism industry horrified at the seven-day self-isolation requirement.
Tourism Export Council chief executive Lynda Keene said it would destroy the industry.
The New Zealand Aviation Coalition, representing airlines and airports, said New Zealand was hanging on to some of the world's toughest border restrictions that no longer made sense with Covid-19 circulating in the country, Stuff reported.
The government has urgently urged Parliament to pass legislation that was due to be in place by December 3.
The Covid-19 (Vaccinations) Response Bill allows companies to fire their employees if they do not get vaccinated.
Workers covered by vaccination mandates must have their first dose by December 3 and their second dose by January 17.
Opposition parties fought it fiercely, RNZ reported.
National said the bill was divisive and rushed through, ACT said it could have gone through a regular process with further consideration. The Maori party said it was cruel.
The government's problem was that Parliament will be on recess next week.
* Peter Wilson is a life member of the Parliament press gallery, 22 years as NZPA political editor and seven years as NZ Newswire parliamentary bureau chief.
.