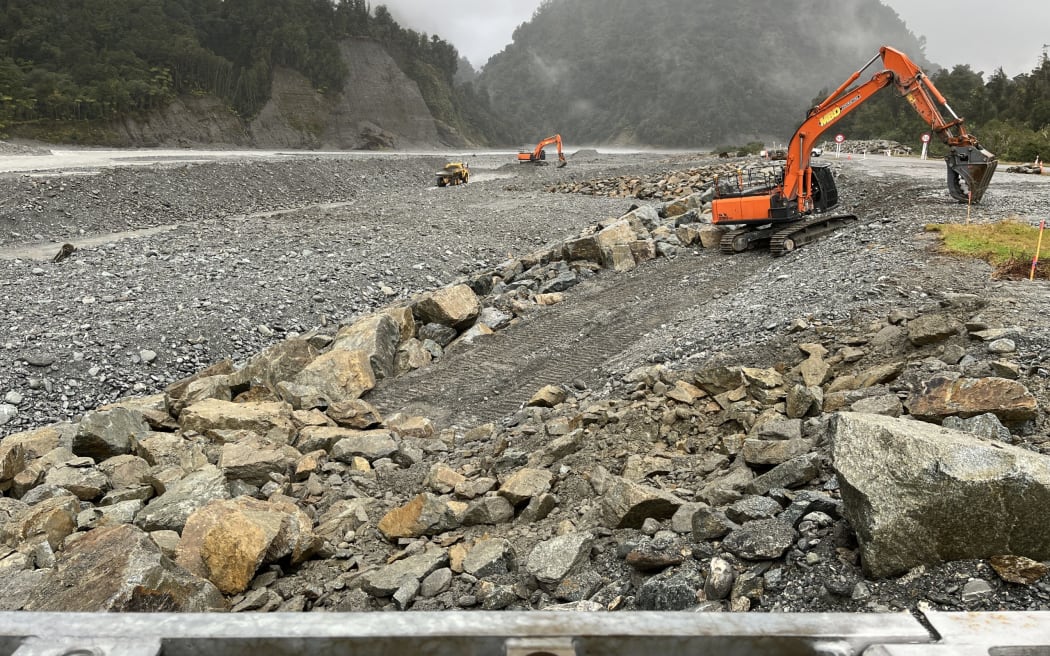 The West Coast Regional Council has been warned it risks losing government money 'loaning in spades' for urgent infrastructure projects – including new flood walls at the Franz Josef Glacier and Westport – unless he acts now.
Councilors did just that at an urgent meeting last night when they agreed to appoint a special infrastructure governance sub-committee made up of councilors Stuart Challenger, Brett Cummings and Laura Coll-McLaughlin.
He also agreed to appoint a special project delivery team using experienced external people for up to three years, to oversee all of the infrastructure projects the council has on its books.
In a heated debate, some advisers expressed displeasure that they had little time to read the context of the recommendations, to ensure that around $22 million of "seed-ready" money was not not lost.
Cummings questioned whether the proposed project manager, Mike Beagle of the Greater Wellington Regional Council, would be personally responsible for the "budget blowouts" he had heard about that council, given the project team's initial budget of 109,000 $ for a maximum of two months.
Beagle said it was a west coast support deal only. He also defended his personal best.
"We come to support you and prepare you for success. We are not underwriting anything at the moment because I do not know what we are dealing with yet."
The risk falls on the council if it does not manage infrastructure projects to a level satisfactory to the government agencies involved, he said.
"At this time, if you do nothing, you will lose your funding…we have to say if we don't deliver."
The Department of Business Innovation and Employment (MBIE) could suspend funding or stop it altogether.
"You are not in compliance with your contract terms at this time," Beagle said.
The project team's original budget was to determine what the board had committed to undertake.
Beagle said the board could review the project delivery team through the proposed governance subcommittee after the initial six to eight week period.
"It's not just the Wild West – there's a lot of conformity."
The loan money shovel administered by MBIE includes urgent works already started:
First stage of flood protection work at Franz Josef Glacier.
First stage of Westport's new flood protection scheme; and repairs to historic flood protection at Organs Island and a bank near O'Conor Home in Westport.
Council also last night extended a confidential Memorandum of Understanding signed in March with Wellington Council, to provide budget and project management support.
Regional council chief executive Heather Mabin said consents for some works had not yet been granted, but some activities could begin.
"We need a contract engineer to push this forward and that should come from the project budget.
"I've never seen a breakdown of the budget for the project… We really need, as the board knows, to start delivering Franz Josef," Mabin said.
On March 23, council cleared the first stage of the Franz Project, including rock for work on the north side and part of the south side of the Waiho (Waiau) River.
Mabin said Wellington Council staff had already identified the need for "external resources" to help deliver and complete four projects, along with other planned projects.
A Wanganui River project near Hari Hari where the rating district had refused to fund capital works after consultation in the long-term plan.
Potential emergency works on south side of Waiho River not included in stage one.
Potential emergency works at Mohikinui in northern Buller.
Scour repair at Organs Island and near O'Conor Home in Westport.
First and second stages of the Westport flood protection program.
Local Democracy Reporting is public interest journalism funded by NZ on Air
.