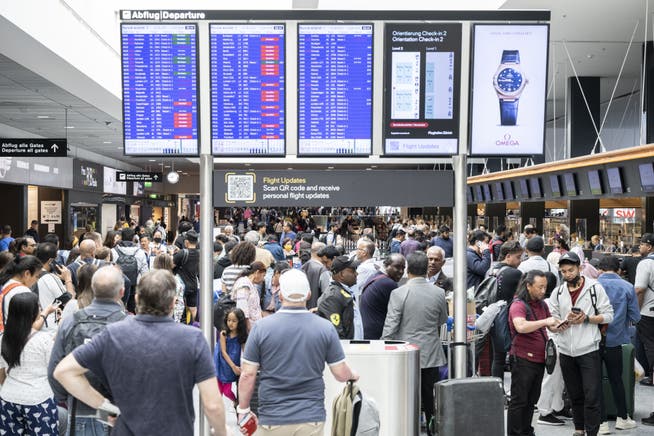 Zürich airport

Unique measure: the unions cancel the collective labor agreement and threaten to call a strike
During the pandemic, ground staff at Zurich Airport lent a hand in crisis measures. From now on, Swissport wants to keep it. The unions criticized him and canceled the collective labor agreement. They are also threatening strikes. Swissport now wants to assess possible scenarios.
After the cancellation of dozens of flights by airlines – including Swiss – Zurich Airport is threatened with further adversity due to the corona pandemic. The unions terminated the collective labor agreement (GAV) with the airport service provider Swissport at the end of the year. And they threaten to take action – from demonstrations to strikes. As noted in virtually identical notifications on Thursday, members of SEV-GATA, VPOD and kfmv each unanimously decided to terminate GAV. Swissport had already been informed of the dismissal on Wednesday evening.
According to unions, many airport workers are burnt out due to understaffing and poor working conditions. Because the last two Corona years have demanded a lot of them. Conclusion: "In the current circumstances, it is no longer reasonable for employees to continue the crisis GAV." As the kvfm writes, this is the first termination of a collective labor contract in aviation in nearly 80 years of the association's social partnership history.
Back to old GAV – plus inflation
The additional agreement negotiated during the pandemic at the CTC in force since 2019 provided that Swissport employees in Zurich reduced their wages and extended their working hours, and waived public holidays and so-called non-working days. The unions write that employees have done "everything" during the pandemic to get Swissport through the crisis. And further: "Now normal operations have picked up speed and it is high time for the working conditions of ground staff to return to normal." In its message, the VPOD also accuses Swissport of "failure to speak". And the union threatens that it will "not go unanswered".
However, in the current situation, the employees are going even further and, in addition to the return to the old CCT for the ground staff at Zurich airport, are also demanding a cost-of-living allowance and improvements in the regulations on holidays. This "to restore the balance between work and private life", as union secretary Regula Pauli is quoted in the press release. According to the unions, five unsuccessful rounds of negotiations have taken place with Swissport since April.
Swissport regrets the decision, but wants to "actively maintain" the dialogue
At the request of CH Media, Swissport Zurich confirms the termination. "We will now assess the current situation and possible scenarios," writes the airline and airport services company.
Although Swissport regrets the association's decision, it wishes to "continue to actively maintain the dialogue". The social partners decided Monday by mutual agreement to continue the negotiations of the CCT, which had been in progress since April, from August. According to Swissport, the common goal is to conclude a new GAV in early 2023 and to continue the social partnership.